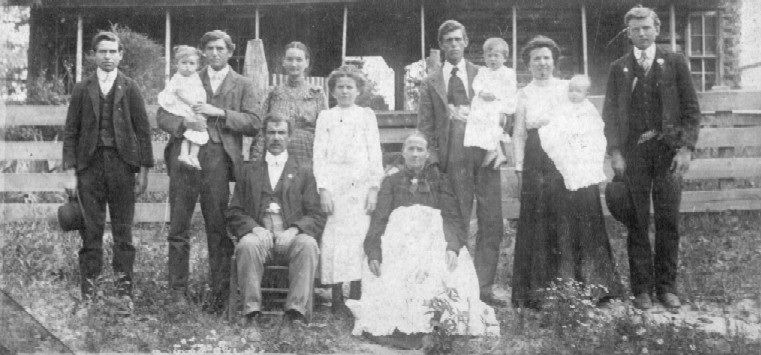 My great-great-great-grandfather William Imus Threadgill (6.25.1858-5.24.1943) and family. I am hoping to identify all the people in this family photo. I know that William Imus Threadgill and his wife M. Fleming Threadgill (see Fleming page) are seated at the front. The young girl standing between them should be Margaret Threadgill (later Stewart), aged 12 1/2. The woman standing behind Wm. Imus is Hannah Elizabeth Barnes Threadgill, who may be pregnant with Almeth Odelia. Her husband William Thomas Threadgill is standing to the left of her, probably holding their daughter, Ida Bell Threadgill.

The other couple holding children is probably Mary Jane and Freeman Lawrence with their first two children, though I need to sort the birthdates out.

The remaining men are William Imus's other sons James Henry, and Andrew Jackson, but I can't tell you which is which!